The deal
Meal for 1 person for $9.90 instead of $15
Meal for 2 people for $19 instead of $30
Meal for 4 people for $36 instead of $60
Each person gets
Choose 1:
All American:
- All American breakfast featuring pancakes served with crispy bacon strips, sausages, quail eggs, and fresh blueberries and cream
Berry Berry Fantastic:
- Signature pancakes layered with marmalade and fresh strawberries, topped with fresh blueberries and cream
Eggs-A-Way:
- Signature pancakes with eggs cooked in omelette style, scrambled, or sunny side up served with a disk of black pepper mushrooms
Benedict the Thief:
- Two poached eggs atop turkey ham and two extra thick pancakes finished with hollandaise sauce and asparagus
Strictly Pancakes
Passionately serving its namesake pièce de résistance, Strictly Pancakes perfects the art of pancake-making in its own way by whipping up colourful creations and going beyond the sweet-based setting of which the dish is typically presented. The cafe on Prinsep Street, opposite PoMo shopping gallery, comfortably seats patrons on two floors, offerering an array of flavours and toppings to accompany this flat doughy cake including savoury selections like Garlic Buttered Prawns and Potatoes Leeking Cheese, as well as dessert pancakes such as Red Velvet and Bananas-Scotched. One can also opt for the traditional style of pancakes, which is to have it on its own, stacked up to one's preference and topped simply with Pure Canadian Maple Syrups and a choice of butters.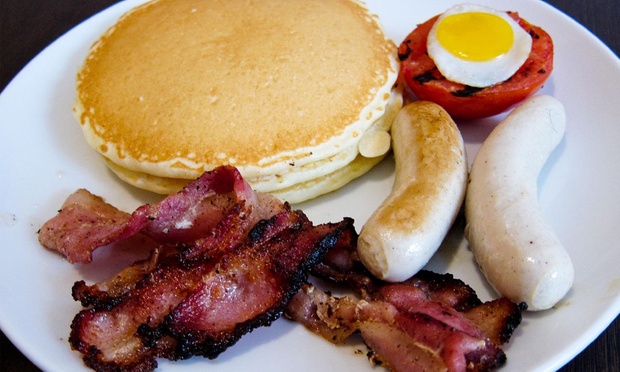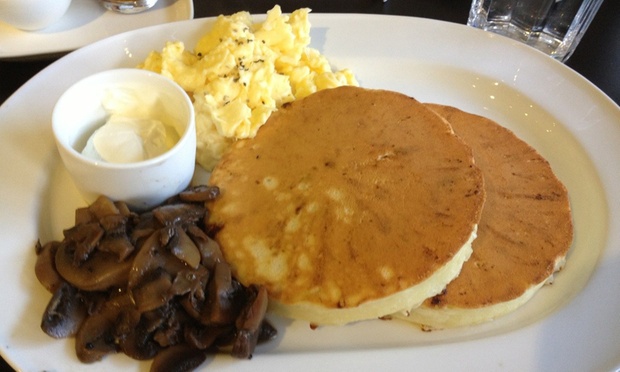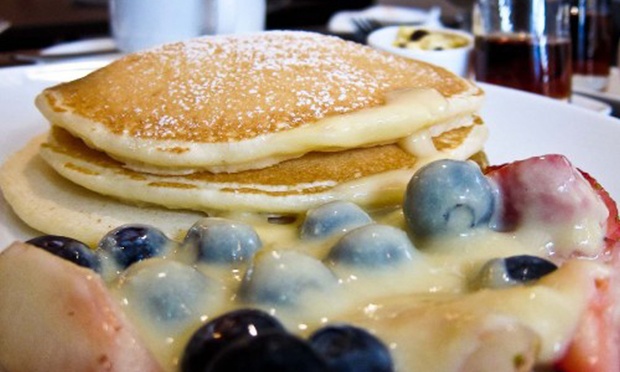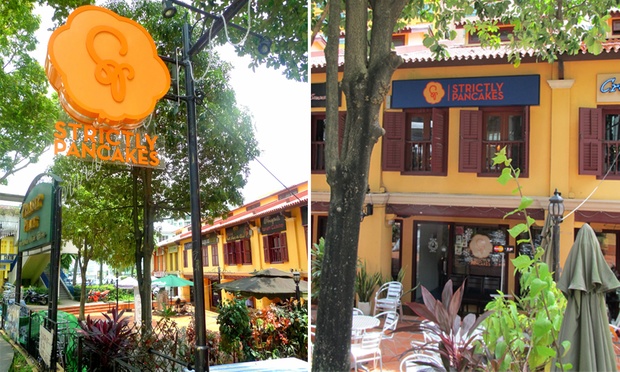 Reviews
Strictly Pancakes has been featured on burpple.
I find the ingredients to be fresh, and of good quality, and that makes a lot of difference when each dish only has 2 or 3 such ingredients. A short stack has 2 pancakes, a medium is served with 3, and a large stack comes with 4 pancakes! Excellent taste as well! – Jan 29, 2014.
Ivan Teh
The excellent service puts a smile on my face and makes me want to return to have more of their unique pancakes! Can't wait to try the sweet ones when I revisit. – Apr 6, 2016.
Kyzrael
1