Today's Groupon
For $42, you get a 3 Hour Payot Paris Spa Indulgence (worth $388).
For $52, you get a 3 Hour Payot Paris Spa Indulgence and Meditrina Moxa Pain Relief Therapy (worth $456).

The Deal
For 60 min Full Body Massage, choose 1 from 4 types:
Javanese Massage - applies traditional Javanese techniques to provide wellness and revitalise the energy system
Swedish Massage - uses light to medium pressure massage with effleurage strokes to soothe tensed muscles and rejuvenate the body
Red Wine Massage - significantly eases muscle tensions and reaps the anti-oxidant benefits of red wine
Tuina Massage - treats chronic pain, especially that caused by muscle-skeletal conditions and injuries at the neck, shoulder and back


For 60 min Payot Paris Rejuvenating Facial, choose 1 from 4 types:
Hydrating - restores the right moisture balance on skin to retain its supple and healthy state
Whitening - lightens pigmentation spots while soothing any redness and irritation
Clarifying - hydrates one skin while keeping the dreaded aging and pores at bay
Caviar Rich - helps erase fine lines, wrinkles, acne and past scars


For 30 min Back Detox Mask, choose 1 from 3 types:
Green Tea Art Oxidant - rids away toxins for detoxification, boost metabolism and help facilitate weight loss.
Ginger Wind Back Maskk - helps fights off saggy back skin for a supple and radiant glow
Rice Whitening Mask - speeds up skin healing while decreasing unsightly dark spots


For 30 min Intensive Eye Bar Treatment, choose 1 from 3 types:
24K Gold Eye Treatment - aids in eliminating wrinkles and promote better blood circulation around the eye area
Ionto Profi Eye Lift - utilises the latest electronic herbal steaming device which tightens droopy skin
Whitening Touch Eye Treatment - diminishes panda eyes to make visages appear brighter and more awake


The Merchant
Supreme Q. X. Beauty Spa is the public's choice for healing spa therapy. Specializing in TCM techniques to loosen knots, it also uses advanced technology to deliver results in the best manner - fast and long-lasting. Their signature treatments include everything from holistic healthcare packages that drain toxins and restore Qi energy, to miracle face lifts that tighten skin and combat wrinkles. Slimming services are also part of this professional's repertoire. More importantly, Supreme Q. X. Beauty Spa is not your run-of-the-mill neighbourhood spa; it has amassed quite a few prestigious awards including Successful Entrepreneur Awards 2010 (Platinum Recipient), Asia Pacific Top Excellence Brand Year 2011 and Asia pacific beauty, slimming trusted brand award 2012/2013.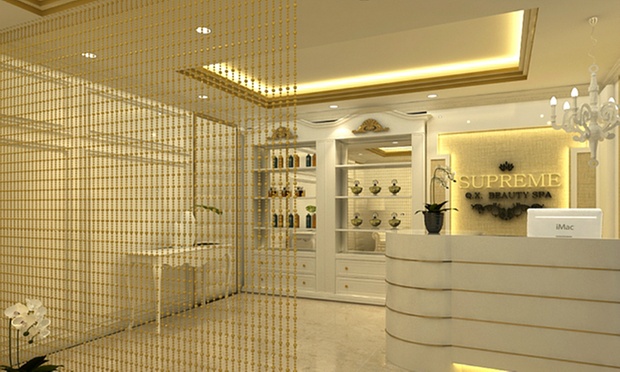 Operating Hours
Monday to Friday: 11am - 8:30pm
Saturday, Sunday and Public Holiday: 10:30am - 7pm
1

Supreme Q.X. Beauty Spa


Blk 513 Bishan St 13 #01-510 (Behind Bishan MRT-CPF Board) Singapore 570513

Get Directions